Siam Park - one of the most exciting water parks in Europe
Siam Park Tenerife
Siam Park is so much more than a water park. With the Tower of Power, The Dragon, and the Mekong Rapids to set your pulse racing, Siam Park is an exciting adventureland set in its very own tropical paradise. These are just a few of the water rides which have made the Park so popular over the last few years since its opening in 2008.

Non swimmers can enjoy the slides too! You don't have to be an adrenaline addict, or surfer to enjoy the Park. You don't even have to be a swimmer! The magical world of Siam water park, with it's Thai theme throughout, is set in a lush, green and tranquil environment that the whole family can enjoy, young or old.

Stroll around the winding pathways where you will discover the sea-lions from Loro Parque and the Koi Carp swimming beneath the wooden walkways as the lazy river flows gently by. Visit the authentic Thai themed floating market and be taken back to the magical kingdom of Siam!

If you prefer to relax, then why not visit one of the bars or restaurants where you can enjoy your favourite drinks, have a snack or even a meal. Better still, make your way to the purpose built, white sandy beach where you can relax on one of the free sun loungers and enjoy refreshing drinks from the bar.

Fancy a dip? Then get yourself off the beach and into the warm waters of the wave pool. It's just a few steps from the beach and is the perfect place to cool down and enjoy the man-made waves.
Regardless of age, the water kingdom of Siam appeals to families of every generation!
Check out the latest ride at Siam water park!
The munch anticipated new ride, the Singha, is now open. A spectacular and truly thrilling water propelled adventure over 240 meters long, the Singha can reach speeds of up to 18 meters per second. Read more about Singha here
---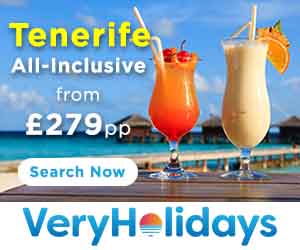 Look! Free bus transfers to and from Siam Park when you stay in Playa Fañabe, Costa Adeje.
For most people staying in Costa Adeje, the Park is within walking distance. However there is a free double decker bus service which has several pick up points in Fañabe. The bus operates every 30 minutes from approx 10am each day until just after lunch.
---
Enjoy these fantastic attractions at Siam Park
Tower of Power
Plunge down the 28 metre drop and travel through the aquarium before emerging safely. Tower of Power
Siam Beach
Enjoy the ocean or mountain views as you relax on Siam beach or swim the 24c tranquil waters. Siam Beach
Lazy River
Relax on the longest lazy river in the world. It's an amazing journey ending in a Jacuzzi finale. Lazy River
The Dragon
Experience zero gravity for you and up to three friends in this exciting and thrilling journey.The Dragon
The Giant
Feel the force of gravity as you are taken on a thrilling journey to the Giants mysterious world. The Giant
Mekong Rapids
Hold on tight a the family sized rafts take you down the rapids for a fun filled family adventure! Mekong Rapids
Jungle Snakes
Prepare for a soaking as you slide down the Snake through the entwisted Jungle. Fast and thrilling! Jungle Snakes
Wave Palace
Choose to surf, paddle or play in the worlds largest artificial wave pool, the choice is yours.Wave Palace
Naga Racer
Head first or feet first down the Naga Racer! Great fun for the family, but who's going to win? Naga Racer
Lost City
With its "baby zone" the Lost City of Siam is just perfect for the babies and young ones. Lost City
Kinnaree
The amazing 200 metre mega slide! Kinnaree is designed for thrill seekers and adrenaline lovers. Kinnaree
Sawasdee
Sawasdee brings you all the fun of the adult rides in smaller versions just for the little ones! Sawasdee
---
Non Swimmer? It's fun for you too!
You don't have to be a swimmer to enjoy the water rides and other attractions at Siam Park. The Park and it's rides have been designed to allow non swimmers to enjoy the water slides in complete safety. Each slide and attraction has fully qualified and highly trained lifeguards on hand to assist everyone, regardless of their ability to swim, at every stage of each water slide.
Cabañas and Villas
A small number of private Cabañas and Villas are available to hire. They are for use during Park opening hours. Tickets for Cabañas and Villas need to be booked in advance.
Getting to the Park
If you are staying in Las Americas, San Eugenio or Torviscas then getting to the Park is easy! If you are fit and able bodied, you could even walk there! You will also find that there is a regular bus service to and from the Park which is available from all the major tourist resorts. If you are travelling from the North, simply join the TF1 and head South. The exit for Siam Park is clearly marked. Ample car parking space is provided on site. Siam Park is the most spectacular theme park in the whole of Europe!
Admission charges at the gate Adult 33 Euros, Children age 3-11 inc. 22 Euros, No extra charges for rides. A "Twin ticket" allows entrance to both Siam Park and Loro Parque. Note: price subject to change - please see tickets page for further info and price.
Admission charges on-line (no need to queue!) Siam Park tickets can be bought here and are valid for 90 days. No extra charges for rides.
Restrictions These apply so some of the slides. These tend to be height restrictions and not age restrictions. Examples are as follows: Tower of Power, minimum height 1.42m, Dragon, minimum height 1.25m and the Lazy River, minimum height 1.1m.
Access for the disabled The Park is accessible to those in wheel chairs, as are toilets and refreshment areas.
Have Questions? Please see our FAQ Page
Need an apartment or hotel in Tenerife? Take a look at accommodation in Tenerife.
---